Happy New Year! Hope everyone is having a good start of 2009. Mine is wonderful so far besides the heavy jet lag, a $50 parking ticket, and broken PC and digital camera...oh yeah, our Japan trip was good too...I say good, not great because it was too short. I'm still on the jet lag. It seems longer and longer to get over it. I woke up around 4am every morning during the first week and it was time to leave when I was just getting used to the Japan time. Then I couldn't sleep until 6am in the morning, just like now, for the coulple of days after I returned.
Japan becomes more and more interesting everytime I visit. I think it is because she becomes stranger and stranger everytime I visit. Modern, but traditional. Friendly, but cold. Kind, but uncaring. Polite, but not so well-mannered. Religious, but unfaithful. Free, but so many rules. I don't do much when I'm there. I'm not intersted to go to a fancy restaurant or trendy shopping strips anymore. It is more interesting to me to go to someplace I didn't pay much attention when I was living there or younger.
One day my boy and I took a bike ride and just browsed around the back streets of central Kyoto, my home town. The scenery is not so exciting. No colors, just gray roofs and dingy white walls of old Japanese houses. But in the good old town where the streets are small, there is still a sense of community in the air. There are temples, not the famous ones on the travel guide books, where the local folks visit every morning. There are shopping strips where a few small business owners are still running in the same old way as before a gigantic chain supermarket forced many of their fellows to close their doors. It was sad to see the empty stores every other door in the shopping strip, but it was also nice to see those business owners talking to their loyals, probablly their neighbors, in a personal level. The town seems forgotten, and the houses are run-down, yet much more attractive to me...I really wished I could open my store there to reactivate the whole community, a sort of what I'm trying to do to the Inner Sunset. So here are some photos I took. I know I didn't take enough to make a better report, and again they are not something you might see in a travel guide, neither a modern side nor beautified traditional face of Japan...I hope you enjoy...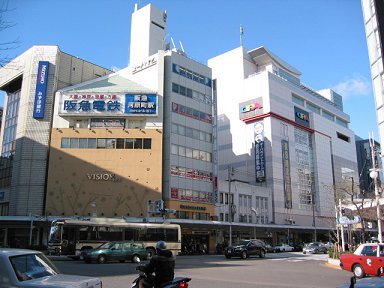 the center of downtown Kyoto...I find an old store replaced with a new one every time I visit...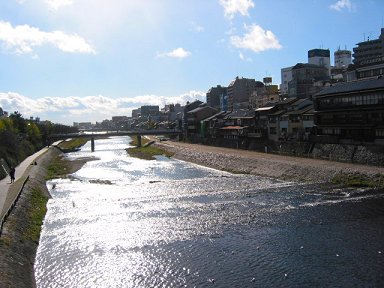 Kamo River running through the center of Kyoto...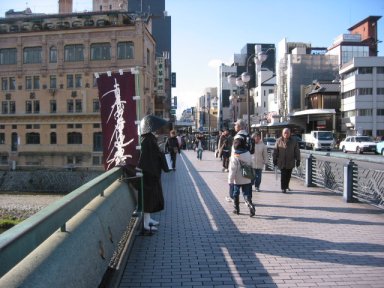 A monk pilgrim on the Shijo Bridge...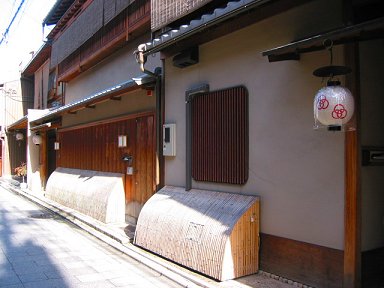 One of the Geisha houses (ochaya) in the Gion District...
Love those old Japanese houses...prefer living in a house like this to a modern condo if I still live in this town...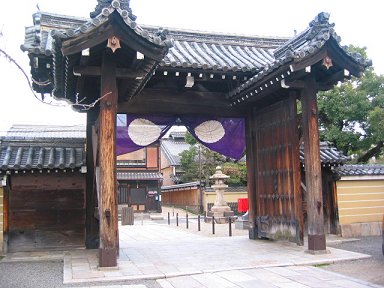 We came across Mibu Temple on a back street...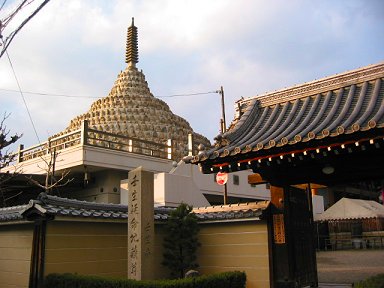 My mom grew up in this area, and I visited a lot as a kid, but never knew this tower of stone god...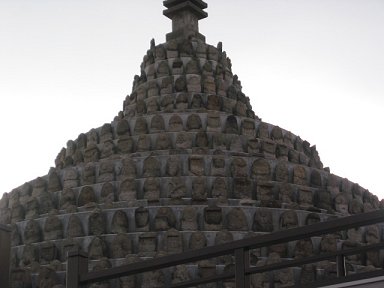 It was amazing to see...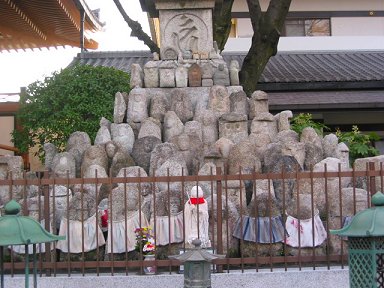 A group of the stone God called Jizo-san...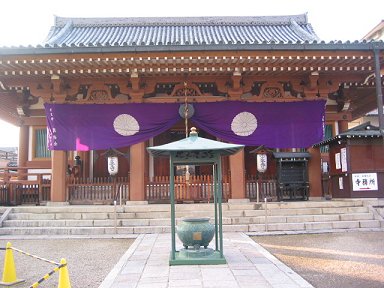 The temple was getting ready for the new year's visitors...the busiest time of the year for the temples across Japan...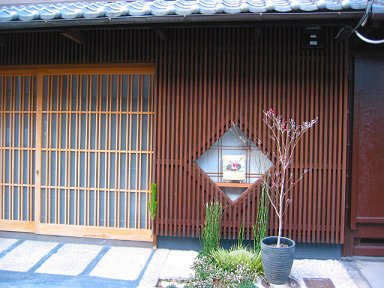 A simple and classy decoration to welcome a new year...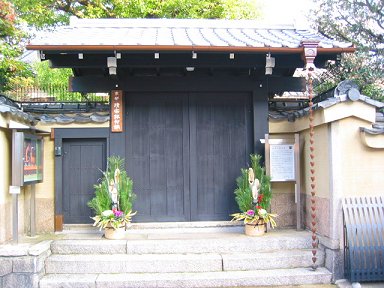 A traditional new year decoration (Matsukazari)at a small temple...each plant represents good luck...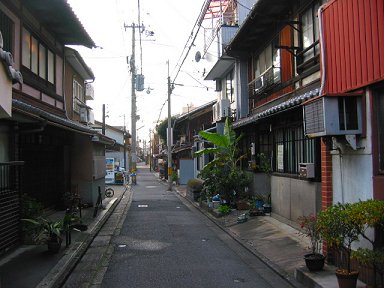 Typical old houses on a small street...imagine how close the community is...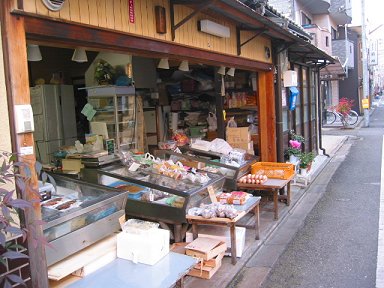 An old style fish store on the old shopping strip...it doesn't look so "fishy" anymore...
selling a bit of everything...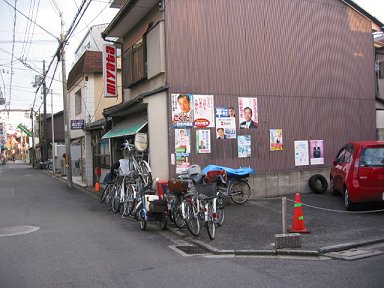 A bike repair shop...an elder store owner was working on a broken bike when I took the photo...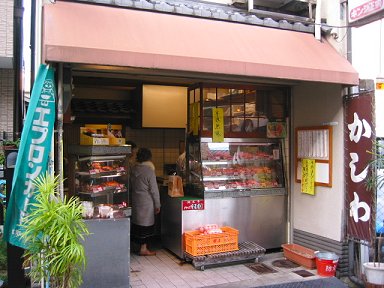 A chicken meat specialty shop...it is common that chicken meat is sold at a different shop that sells pork& beef...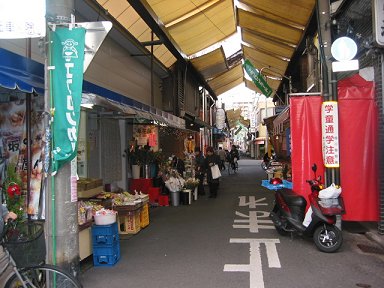 I'm sure it used be more vibrant in the community...a few women buying some flowers for the new year...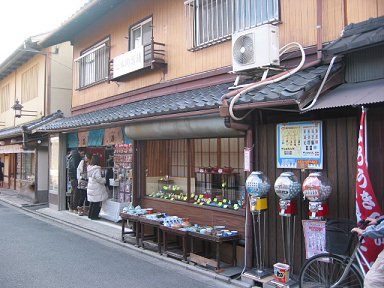 A little gift shop that sells everyday use pottery too...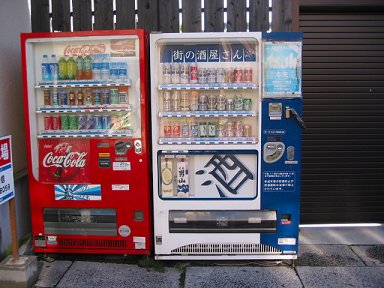 Vending machines are everywhere on the street...even beer and sake are sold without ID check...and you can buy a can of soda with your cell phone...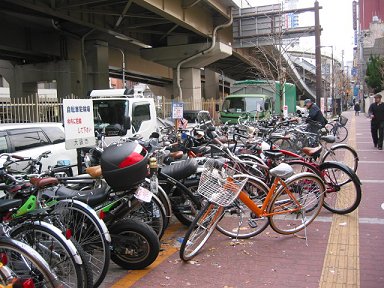 These bikes and motorcycles are not here for people to steal...people park them on the sidewalk by the train station, and this is one of the problems that every town has...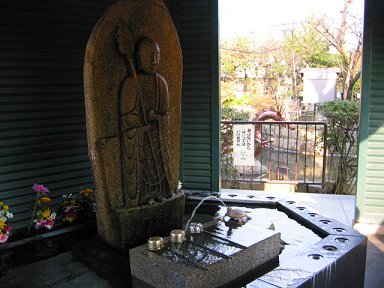 Mizukake Jizo at Mibu Temple...pour water over the Jizo and make a wish...your wish may come true...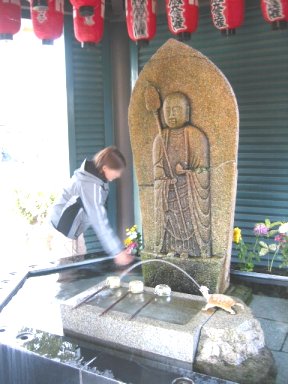 My boy making a wish...he told me that he wished for Peapod's success...good boy :-)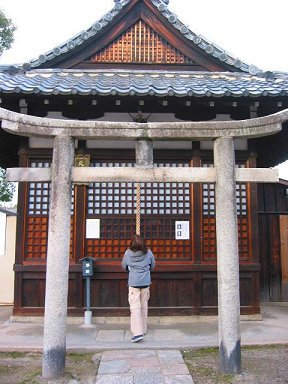 A small shrine that worships the God of Study...here my boy wishing for his academic success... :-)
by peapodfabricssf | 2009-01-06 00:22 | life