This is my lovely sewing machine called
Quilter's Choice Pro
from
Baby Lock
. It does only straight stitches, but powerful and beautiful. And I LOVE it. Soon after I opened the shop, I was searching for one GOOD one with which I don't have to curse everytime I get to the heaviest layered part where my needle eats up the fabric and refuses to go any further. I didn't need any fancy stitches but beautiful secure straight stitches. I was going for JUKI for its strong reputation, but I didn't know where to buy it locally. The place I went to in Daly City is no longer there, but they sold Baby Lock instead. I tried it, and fell in love. It was like magic. You will know what I mean if you try it. The owner gave me a deal and this baby came home with me that day. Besides beautiful stitches it creates, I love the automatic thread cutter. This makes a big difference in your sewing life. The price wasn't easy, but a good investment. Around $900, but it was totally worth it. The price usually associates with a number of stitches and fancy functions, but in many cases, you probablly don't use them. Straight, zig zag, button holes, zipper. That's all you need. Really. I think $300 is plenty for a good new one, and there is always a good second hand. So what do you want for Christmas? Just say a sewing machine.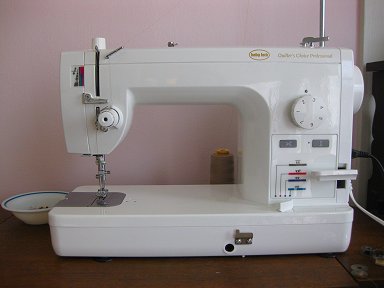 it's made of metal. so heavy, but a heavy machine is a good machine...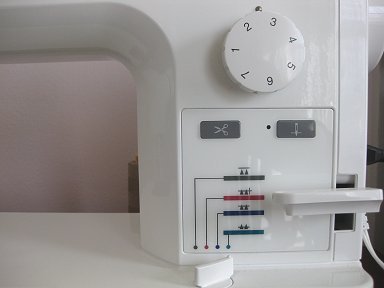 one press on the scissors button, a thread is cut. no time and a thread wasted...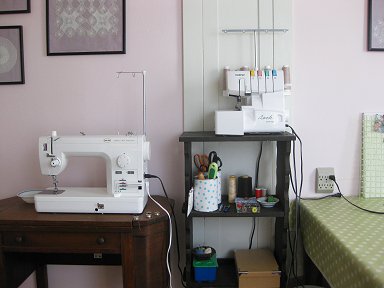 my serger next to baby lock. you don't need it, if you don't sew clothes. zigzag does the job, but it's nice to see the clean cut edges that a serger creates. mine cost about $180.
▲ by peapodfabricssf | 2009-12-18 16:13 | Sewing/Crafting